European Tour 2016
a.k.a. Alexa Dexa's Tour of EU Football Games and Pride Parades
(A Humble Guide for Touring European Lands)
Cannes
*If your tour happens to coincide with Midem, France's premiere music networking conference, definitely submit to the Midem Artist Accelerator Program, the byproduct of which will land you with a free ticket to the conference where you'll meet with new tech companies, publishers, managers, and other international industry veterans.

*** Don't assume that everyone attending the conference means well and wants to network for professional and good-natured purposes. Just your friendly neighborhood reminder that sexual harassment/assault is real in the music industry, as in other places.
Croatia
Zadar

*Swim in the sea -it will be crisp, a deep green transparency that shimmers sun rays with large cement rock steps beckoning you in, slippery with sea algae.
*Spend most of your time engulfed in the sonic air vibrations pushed through the cement pipes catalyzed by the waves lapping at the entrance of the glorious sea organ.
*Eat as much salty bread (from any bakery) as it's possible for you to consume.
Ogulin
•You can use the bleach in the bathroom of the hotel you've been put up in to clean the moldy poncho you forgot to let dry the last time you used it 3 months ago.
•Make sure you watch the ground for fountains.
•Be on the lookout for a hair dryer so you can dry your shoes when you step in that ground-level fountain I warned you about.
•The venues are going to pay you in euro, but don't be fooled!
Every bus, train, restaurant, and grocery store in Croatia only accepts kuna.
When I was invited to perform at Ogulin's Fairy Tale Festival, I was so excited to be involved with what I knew would be a really fun outdoor festival championing theatricality and community building. What I didn't know was that the festival is specifically geared towards small children, which was a super adorable and fitting surprise! At first I was concerned that my dark material and themes would be out of place content-wise, but I was graciously reminded that some of the best stories for children are incredibly gory.


Zagreb

Stop one coinciding with EU Football. Croatia wins.
Also stop one for Pride Parades. Zagreb's pride parade saw me drumming enthusiastically with the Zli bubnjari improvisational drummers – a huge honor for me.


I'm on the train somewhere in Hungary
and I'm thinking about love lives. I went to the emotionally-charged museum of broken relationships in Zagreb this morning. I wonder about the mechanics of people growing together and growing apart. I contemplate my comfort with growing pains because of their familiarity for me. When everything is unfamiliar around me, that familiarity can be dangerously grounding. The nature of habitual rituals & routines are difficult to re-cultivate. I'm in a constant state of re-routing.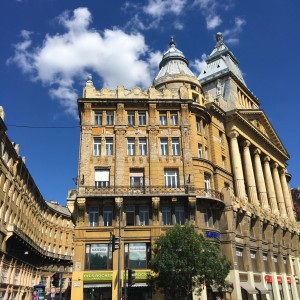 Hungary
Watch the sunset on the train to Budapest, it will be the greatest of your tour – lush misty fields with tall thin trees and neon oranges, pinks, and dark cloudy purples painting the horizon.
*Make sure you can light a gas stove with a tiny matchbook and that the idea of cooking in this way doesn't instill large amounts of fear in you or you'll consider cooking your couscous in the electric tea-maker. That will be hard to clean.
*Do not under any circumstances
venture to the vintage shop your friend recommends to you. You'll find a Hungarian designer you absolutely love, search out their main store, and buy way too many outfits that you completely adore but really shouldn't be carrying around in your pack for 2 months, especially since most of it will be sweaters and you're touring in summer.
*When you accidentally align your tour schedule with the European soccer games so that each country you arrive in will be playing their match while you're there, make it a point to join the masses watching the game on outdoor screens. The rampant sporting patriotism is infectious. Hungary wins.


"You have my heart" – possibly the most delightful thing anyone's ever shouted at me across the room between songs. Everyone in Budapest's DIY space, Aurora, was so receptive, so lovely – asking for one more and telling me to come back.
I was visiting Kerepesci cemetery – enamored with the unique sculptures on every tomb and the space given between graves and from time to time sitting and writing and taking in the insect life. As I'm on a bench, a man on a scooter comes over my way and starts speaking to me in Hungarian.
I ask him if he speaks English. He asks me if I speak German. We go for body language. He's pointing to the sky and making downward gestures and then motioning for me to look behind the massive tree I'm sitting in front of. I notice that a huge range of black storm clouds are quickly approaching what on my side of the tree was a totally sunny and beautiful day. But I'm in my poncho so I say danke and the man looks at me and scoots off and I decide to look around the nearby memorials before the downpour. I see a dome-shaped memorial and decide to take refuge under it and watch the storm roll in while taking a field recording of it.
The atmosphere is beautiful. I can feel the rain coming and the sounds and winds are so peaceful even with the booms of thunder. After watching the storm, I head to the funeral museum on the premises. On my way out I see the man on the scooter again gesturing to me like "I told you so" about the rain. I wave and nod and off he goes again.


Warsaw

I'm in Poland. Warsaw to be exact. I'm okay. I'm in a weird reality where I'm permanently subconsciously anxious and I'm trying to come to terms with my actual life anxiety. I'm also trying to understand nostalgia, perception, & its relative importance in the present (but really future thinking). And whether my future thinking (that's really my dwelling on the past thinking) is detrimental to my present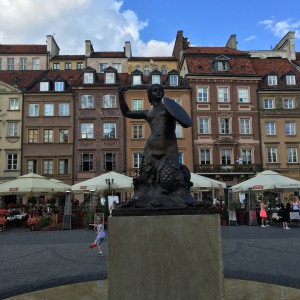 or just a part of my persona that influences my creative habits. What does anything actually mean or does it have to mean more than a moment that I wish I could recapture and replay indefinitely in my present. Nostalgia nonreality. Nighttime subway ramblings.
When you get to Poland:
•Make sure you ask your host how to use their laundry machine. You know, you want to preserve the colors and keep the dainty dresses on delicate and cold wash. But you want to make sure the spin cycle happens at some point because
otherwise your clothes will be sopping wet forever. And you'll try to hang them on the drying rack indoors but it will make a swimming pool for toddlers. So you'll have to move everything outside once you've already laid out the clothes. It will be tricky. Trust me.
•Another thing on laundry- Yea there are no dryers in Europe. You REALLY have to plan out which items you don't yet have to wash so you have something to wear while you're doing laundry and while your laundry spends 1-2 full whole days drying.
•People in Europe
don't have a fixed-in-place shower head. If you're lucky, the portable shower-sprayer will have a holder above your head, but in fact, some have only a holder that hangs at the midsection. Showers in Europe are also sometimes without shower curtains. Or even a tub or enclosed space to contain the cascades of water that you will most certainly display about the bathroom as an American totally unused to holding a shower-head in one hand and washing with the other, completely unpracticed with the physics of lateral directionality that showers at home have no cognizance of. Customarily only gravity directs our flow of water. So in the case of a mid-section-hanging shower head,
try kneeling under it so as to alleviate the need to control all of these foreign washing factors.
•Encores every night. Make sure you leave at least one song you like unplayed so that when people call out for one more – and Europeans are not shy to do it – that you'll actually have one more to give them.
At the Umschlagplatz Memorial for Holocaust victims,
I read every Jewish first name set down for remembrance. It's so easy to connect to a first name, to feel solidarity. If it's not weird to say I picked up two new favorite names, I'll tell you I particularly liked Ber & Wolf.
Poland wins their football match against high odds. See a pattern yet?
Hamburg

*Go to the city park lake pool for a swim – the water will give you a good chill and your limbs will find themselves wrapped among the lake vines as you try to get to the floating platform holding the slide. Always take every opportunity to submerse yourself.
*Keep in touch with your new friends from Midem so you can meet with them while you're on the road. It's likely you'll end up with a cool opportunity, like having a writing session with a hit German songwriter with ROBA Publishing.


Berlin

Young people rule the summer here. Guess who wins the football while I watch the game from an outdoor screening in my favorite abandoned-airtport-turned-park? Hint: If you haven't caught on, I seem to be a weird sports good luck charm. Every city I was in won their football game while I was there.
•Don't let the German bus drivers see that you're bringing a toy piano aboard,
they'll make you stow it under the bus due to safety regulations & monetary accumulation purposes. You won't like this.
•Germany has the highest quality & greatest selection of vegan food products I've ever encountered. If this is something that excites you, make any biomarkt your home.
•Also bread. America does not do bread right. When you're in Europe, eat bread and be merry. However, real bread is usually only good for the day it was made! Be sure not to save it or you will be sad to find mold rapidly consuming your portion.

•Always keep a tour spoon with you so you don't have to drink your soy yogurt and then attempt to get the last portion at the bottom by using the tinfoil top as a makeshift spoon, finally resorting to using your fingers.
•Keep in mind that the biomarkts with all the yofu & tofu you dream of are closed on Sunday. Don't strain your picnic plans at the Tempelhof airport park by not planning for this.
It was to my utter pleasure and delight that my dear friend and phenomenal artist Gotz happily agreed to make a collaborative performance with me in his Falkensee garden. His recent endeavors have brought him to creating the most delicious ice creams, specifically his strawberry rhubarb is not to be missed, and he was kind enough to provide some for the gathering, where he also played his visual projections live along to my set.


•If you have severe flying anxiety
and about 7 flights in your near future, take a breather. Make sure you have plenty of tiny activities to take your mind off of the fact that you're some 32,000 feet in the air potentially bouncing about without a real understanding of the inner mechanics that are dictating how you're even in the air to begin with. I.e. A mixture of chill & bumping music to listen to, a book to read, a notebook and pen to jot down thoughts, something mindless to keep your hands busy. Be open to conversing with kindly persons en route with you. You never know who you'll meet. You might become pen pals with a warm-hearted German woman or possibly you'll meet the sound engineer for Cher who shows you his work calendar in a planner Cher gives her employees with her face on it.


Lisbon

*Oftentimes it's great adventuring to simply wander based off the intuition of your gut. But make sure you know yourself well enough to divine what your gut is seeking. For instance, in Lisbon my feet transported me deeper and deeper into Monsanto park, inching towards the center, which happens to be a prison. I must admit, I've always enjoyed historic dungeons and abandoned prisons.
But this one is fully operational it seems. So…
•Make 100% sure you make time in the morning and night (yes, twice a day) to stretch out your feet like your podiatrist told you to because you'll walk 25,000 – 31,000 steps every day and otherwise your toes will start to go numb.
•When you go to Belem, don't get the special cakes they make there from just anywhere.
You have to go to the special cake shop or you'll miss out on what everyone reportedly considers a "perfect" cake.
•In Portugal, the football game will delay your performance should it be running overtime. So make sure to be well-rested or you'll give a performance of supreme sleepy drunken-ness. Portugal wins. They then go on to win the whole EU football shebang.

Madrid

Stop two for Pride Parades, where google maps informed me the pride parade was happening with a line showing the parade route, so I joined in marching and celebrating.
•I went in looking for skin submersible gauze to swathe myself in when I began to feel I was no longer
withstanding persistent jostling.
•Dating and touring do not go well together. Most partners like consistency and presence. Not consistent absence, different time zones, and trying circumstances.
•When you experience a break up on tour – reach out to your friends & family so the absurdity of your reality doesn't upheave your sanity levels too heavily. And then do something familiar
and comforting to help ground you and recenter yourself.
•Sometimes you need to put endless tour wanderings on hold to marathon Law & Order.
*Carry your passport with you at all times so you can do fun weird things like become a member of the gorgeous National Library of Spain and then peruse its catalogue of avant garde sheet music from composer Jaun Hidalgo, who you'll discover through his sound art installation in the Reina Sofia.
Barcelona

•Sometimes I wonder what's on the other side of hills, the dynamic view you can't see from the stationary function of the road.
•When you go swimming at barceloneta beach, make sure you wear everything you have into the water, including your house keys and a handful of euro coins to buy some new shoes when someone steals your sneakers, socks, and fine literature. This way at the very least you won't have to walk
35 minutes back to your place completely barefoot on asphalt baked by the scorching sun.
•Keeping a stash of herbal supplements for positive moods is a great way to avoid the effects of everything and anything being liable to cause an emotional breakdown.
*Visit Cementiri de Montjuic, a fortress built on the caskets of Barcelona's dead. Walls made up of dusty vertical encasings for the deceased. Practical hillside mourning with protective gulls swooping & cawing. Mobile ladders so no emblem of grief is untouchable.


I laid down on the carpet
of the floor of the basement of the establishment I performed in tonight. Straight down on the ground, eyes at the ceiling pre and post show in order to serious contemplate the state of my existence. I needed to feel the gravity of it.


As for space advice:
1. Start wearing a giant glass fishbowl on your head.
2. Acquire a pair of moon boots.
3. Only wear clothes that are silver-colored.
4. Listen to recordings from the NASA sound library.
5. Practice running around a giant hamster wheel until you can run all the way around the wheel upside down and all.
Once you've defied the laws of gravity, you've done your job. You've mastered space.


Edinburgh

I'm pretty sure the perimeter of Edinburgh is surrounded by a spherical clear globe that sits permanently on the mantel of a heavenly giant that every so often gently shakes the rain and snow onto the fairy tale facade of castles and ancient buildings. I'd be hard-pressed to name a city that stands quite as fantastically.


Glasgow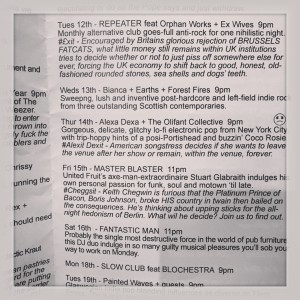 •Come hungry. This is vegan/vegetarian paradise.
*Do yourself a real favor and eat as many pizza crunch suppers as you can during your stay. It's not every day you can find battered and deep-fried pizza. But it is every day that you'll wish you could.
It may be an odd coincidence, but perhaps I'm also a weird political upheaval charm. Last time I was in the UK, Scotland was voting on the referendum for independence. This time my tour has me smack dab in the middle of Brexit. It's truly fascinating to experience the news while you're in the country affected the most.


Belfast

I was struck to discover that the Peace Walls in Belfast are a bit of a misnomer. Tensions are still strong among Unionists and Republicans. The Troubles haven't really been cleared from the public space. The gates lock and the murals sport messages of courage and acceptance or of violence and intolerance depending on which side of the walls you're standing. When you walk among the Unionist part of town, the flags strung across the streets
like party favors almost remind you of a friendly block party until you recognize the colors of the British flag and the understanding of these colors as another disparaging tool to show Republicans they don't belong. It's a vehement history that lingers and that makes me wonder how communities can heal from deeply-ingrained, heirloom rhetoric so hateful.
Closer to the Queen's University and the downtown,
the political weight seems to dissipate among a boisterous, youthful nightlife. Past the river quietude hovers over the neighborhoods. I did pretty instantly love something about the spacing of Belfast's buildings, their lack of towering upward expansion, the walkable nature of the city, and the feeling that the city is emptier than it used to be.
*If you make your way to the geometric rock formations like lost vertebrae that make up Giant's Causeway, take the hike along the cliffs. You'll miss the hoards of tourists and you'll find a sense of beauty that will easily confound you.

•Make sure you keep some water in your bottle for your walk over to the Europa bus centre when you're catching your bus to Dublin. That way, when a massive bug flies into your eye, you'll have something to flush out the lingering physical and spiritual remnants of extinction other than your tears. The worst part will be feeling the wings stop flapping at the exact moment your socket becomes a sepulcher.


Dublin

Every once in a while I'll be making use of city buses and I'll encounter a crotchety older person that makes it a point to express in no uncertain terms how displeased they are with me taking up space with my pack and toy piano and little lady body in a seat and a half or two (It is notttt easy to configure you and your gear in these transit seats, I'm telling you. Even if you're highly practiced). On my first bus in Dublin,
I didn't realize I had seated myself in a section that's meant for the elderly, disabled and pregnant. So an older man forced himself into the seat next to me, which was fine. Until he started asking me to move my toy piano – to where I don't know, it was physically impossible for me to budge an inch. He's persistent though and begins putting his hands on my toy piano and shoving it (and me) away from him, at which point I remind him that I didn't force him to sit with me
and that he can sit in the open seat right in front of us or in any number of other open seats on the bus. He's not fond of that remark and begins yelling at me about how the seating is for elderly people and I shouldn't be there. People around us are staring and not saying a word. Luckily, my stop is next and I'm relieved of dealing with full-on aggression on the bus. Some people came up to me outside and told me that man wasn't right to do what he did, but that was wasted commentary on me. It's important that we stand up to abusers themselves when we see inappropriate behavior.
*Phone detention is my best advice for enjoyment retention. Luckily, the lack of global wifi and the
cost-ineffectivity of buying a new sim card in every country makes that a really plausible option when you're abroad. Just make sure you load Google Maps two and from your most important destinations and up those map-reading skills.
*Prepare yourself for the utter leprechaun magic you'll be sure you're experiencing when you're hiking the bray trail and you get among the weeds off trail and hear traditional
Irish flute music playing off in the distance
*Come ready to drink, bring some friends who will help you drink, or make some new friends because you're going to get a legit bucket of ciders at your gig, this is Ireland after all.
*Make sure to swim in the Irish Sea every day you're in town. It will be so frigid that it'll take you 5 whole minutes to adjust from unbearable ice to numbingly refreshing but it will be entirely worth it. There will be a lovely view of the Poolbeg Generating Station that's no longer in operation and you'll hate to leave.
*The Irish accent and language is unfathomably attractive to the ear, so be careful what you listen to from siren mouths.
Getting to Salisbury from Dublin will be quite the procedure. First you'll take the train from Dublin to Rosslare around 2pm. At Rosslare you'll have some free time, so go get some chips from the small town at the very top of the high hill. Around 8pm you'll get on the ferry to Pembroke in Wales. You'll wake up around 1am to wait for your 3am bus to Cardiff (exhausted I might add) and in Cardiff you'll take the train to Salisbury around 7am and be finished with your journey around 9am.

Salisbury

*If you can swim in the Irish Sea, swimming in the English Channel will be a breeze! A warm one in comparison 🙂 (but still cold).
*When you take a day trip to Bath, make sure to get the tea and scones with heavy cream from the cafe on the bridge lined with shops or you will severely regret it when your mom tells you that's the exact cafe you had the exact dish in when you were a mere tot and that it was to die for.
You'll daydream about the tastes you could have had for months to come.
*Don't miss the Salisbury Cathedral – it's unimaginably gorgeous. It also is home to one of the four copies of the Magna Carta, "the greatest constitutional document of all times – the foundation of the freedom of the individual against the arbitrary authority of the despot".
*Also, please go eat those vegetarian savory pies.
Arundel

How to gauge if you've gotten off the train at heaven even though the sign says Arundel: Right off the train you see a grand castle on a hill, an almost grander cathedral on the hill opposite and a sign boasting medieval jousting. It's likely I'll never leave.
I ventured to Arundel to visit my friend and hemp entrepreneur Nathaniel, owner of Vitality Hemp. (If you're into hemp,
he's got some really exciting products in the works and some quality hemp seeds in his field – keep up with him!) Obviously when I saw the jousting sign, I had my plans set out for me. I bee-lined to Arundel Castle to watch the International Jousting Tournament and to take the castle tour. It was then that I realized I've possibly been living out the wrong dream tract. If I had only known that I could be an international jousting competitor or even just a full-time
medieval person in the entourage village network…
I also went on a wind-surfing excursion with Nathaniel which was a CHALLENGE. I'm not sure I was made to harness wind power, but maybe I'll have better luck with regular surfing at some point.
LA

*When you arrive in LA from your 10 hour flight from London, you'll be exceedingly exhausted with the awkward time change and travel. Do your best not to fall asleep on the grass outside of your friend's apartment while you wait for her to come home. Definitely don't sit on any couches on the street even if your half-crazed brain semi-thinks it might be a comfy idea for half a sec.
*If you're looking for some free fun in Los Angeles, take the Central Public Library Tour


San Diego

*Plan your trip to San Diego to include a Sunday so you can go to a free concert at the world's largest outdoor organ, which is majestic in sound and scope! Bring or rent a sunbrella though – it is shadeless in the seating area and it will most likely be SUNNY and HOT in San Diego so you'll incur a strong sunburn if you don't play it safe. And don't leave without taking a peep into the inner workings of the organ!

*Get yourself a Compass Card so you can ride around San Diego's bus & trolley system for $5 a day -unlimited rides. Make your first stop Coronado Beach, where you'll be so pleased to know that you can leave your purse, clothes, and whatever else out on the beach and they'll still be there when you come back from your swim, which will be in warm warm water with a view of your next day public bus touristic stop, Point Loma Peninsula. Point Loma holds the Cabrillo National Monument,
which pays homage to Cabrillo, the conquistador that discovered San Diego, and boasts not one, but two beautiful lighthouses – which sort of brings my tour full circle. I may not have finished reading To The Lighthouse by Virginia Woolf since it was stolen along with my socks & shoes in Barcelona, but I surely made my way to the lighthouse. And to the tide pools at the bottom of the cliff.
*When you get a massive migraine that has you
buckled over a plastic bag with violent nausea and 1hr and 35 min of buses and trolleys to ride to get back to your friend's house, try some deep breathing and open windows for some fresh air. Keep your eyes closed. Then make a pact to keep Excedrine on you at all times.
*Don't leave San Diego without having experienced Pancho Villa, the greatest grocery store you could ever hope for if you're in the market for watching people make your tortillas right in front of you and if you have a flare for Mexican cooking.
*When the heat starts to get at you, try drinking some kombucha.

SF & Monterrey

My tour culminated in a family road trip to scatter the ashes of my dearly beloved Granny and middle name namesake, Dexa. We started in San Francisco and wound our way down the Pacific Coast Highway stopping at lighthouses and to see the elephant seals with their protruding trunk-like noses. With a detour to Hearst Castle, which is sort of an amalgamation of conflicting and overly-ornate architectural styles that one should probably expect from the
golden Hollywood era, we eventually found ourselves in my Granny's hometown of Monterrey. Here we visited the old family mortuary, upon discovery of which I made a whole lot more sense to myself, and the (thankfully small) cemetery where my Granny's lineage was buried, including my great grandparents.